This is our Unit Manager – Brenda. Brenda's father actually founded Gateway Rasmussen in the 1960's. Brenda has 3 kids and 2 amazing grandkids!  She always says that the favorite part of her job is talking to the customers!  She feels that they come to us as strangers and leave as friends!   In her downtime you can find her at the yoga studio or baking a new dessert recipe in her kitchen!  She has a sweet tooth!
Brenda Hrycyk
Unit Manager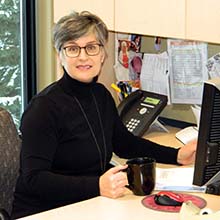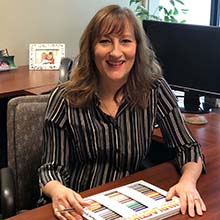 A "Foodie", Rhonda loves watching cooking shows, trying new recipes and eating! She's worked at Gateway for 15+ years and worn many hats, but Sales is her thing. She loves meeting new people from all over the continent, learning about their fundraising cause or family traditions. Call her for a quote - she's very patient and helpful!
Rhonda Pineau
Sales Representative
Lover of palm trees and tropical escapes, Gloria likes things bright and beautiful. And spicy! She will always be the one exclaiming over exotic and unique recipes. "I have to try this one!" Gloria has been at Gateway Rasmussen since 2004 and is one of our Design Co-ordinators. She's the one that will bring your project to life, with vibrant cover and divider designs that will make your cookbook pop!
Gloria Nickel
Design Coordinator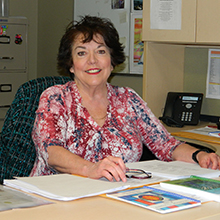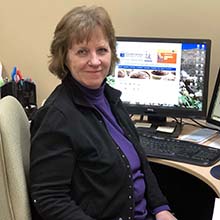 A creative, crafty, country girl, Lorraine loves home cooking, especially with ingredients fresh from her own garden. If it can be homemade or handmade, she'll find a way to do it! She joined Gateway Rasmussen in 2013 and brought with her many years of experience in creative design, copywriting and print production. She'd be happy to help you make your cookbook truly unique.
Lorraine Decock
Graphic Coordinator
A longtime employee in the cookbook department – Cheryl is a woman of few words! But we can tell you that she loves spending time with her grand kids! She looks after formatting your project to make sure everything fits on each page and looks great!
Cheryl Cooper
Format Coordinator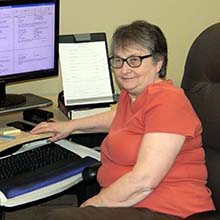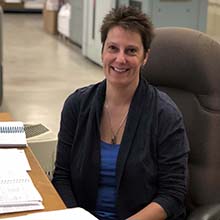 Melissa has been a digital printer for over 8 years. She enjoys printing and seeing the creative covers and cookbooks that are sent to her for printing every day. In her spare time, she enjoys spending time with her two crazy dogs, working in her backyard in the warm summer months, and playing hockey.
Melissa Stefishen
Print Room Coordinator
Lori is Gateway Rasmussen's Bindery Supervisor. She looks after getting your printed cookbook bound with one of the 45 different colors of coil binding that we offer. Lori enjoys family time at the lake and is a new first time Grandma! She is also a fantastic cook – whipping up delicious Ukrainian recipes for every holiday!
Lori Gagaluk
indery Supervisor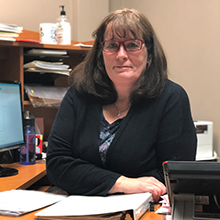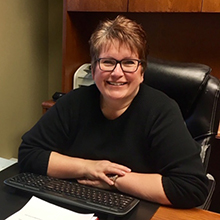 As Gateway's Director of Marketing, Anna looks after the preparation of all of the company's marketing and promotional material. Anna's been with the company for 30+ years and is involved with all of the different business units. She has two sons and a new grandson with family always being her top priority. Big Sunday dinners at her house every week is a family tradition.
Anna Massey
Director of Marketing